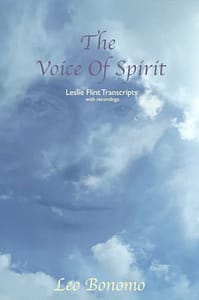 The Voice of Spirit – Leslie Flint recordings and transcripts. This is a totally unique life changing book. The most sensational book and set of recordings you will ever own!
Pre-Orders until November 1st 2021.
Pre order https://leo-bonomo.com 
Get 15% discount, signed and identifiable numbered copy making it a valuable collectors piece. The knowledge and connection that comes with this is truly life-changing.
Forensically tested recording through world class Forensic company.
Listen to the dead speaking intelligently from the afterlife through the mediumship of Leslie Flint – direct voice medium.
Read stunning reviews from notables within Spiritualism such as Robin Foy, Kai Muegge, and others on Leo's site
In this Superb and unforgettable book by Leo Bonomo, he has gone a long way  towards realising the case for "Post mortem Survival" by presenting a carefully chosen cross-selection of conversation with various spirit people- seem well known in their lifetimes, and some not – speaking in their original (earth-time) living voices, but recorded after their "death" through the remarkable Physical mediumship of Leslie Flint.
Robin Foy
"In creating what must surely be a "must read" book for anyone with even a passing interest and or curiosity about what happens immediately after death.
Stewart Alexander – Physical medium.
"Having read this amazing book of transcriptions, listened to the recordings, a real must-have, they are incredible, I am blown away! In one recording there is a "fairy tale ending" in which a gentleman after losing a loved one early, turning to a life of crime, is reunited to live the life the lovers could have had. A real Romeo and Juliet moment"
Anthea Turner – TV Personality
This is a book that should be on every mediums shelf and in the hearts of humanity. It is not a story, these are lessons direct from the minds and voices of those on the other side of life. Listen, be touched and open your heart to the truth of the world unseen"
Jock Brocas – Medium and best selling Author